GREG FENDIS
Founder & CEO
Greg Fendis, the Corporate Founder and CEO of KOSMO CAPITAL, is a senior business executive specialising in the global development of businesses and thrives working in dynamic organisations.
His extensive experience within the Information Technology, Internet Networks and the Telecommunications Industries spans over 35 years with responsibilities ranging from General Management, Sales, Marketing, Business Development, Strategic Planning, Engineering, Customer Services, Product Management and Manufacturing.
His thorough understanding of Telecommunications Networks, Data Systems, Smart Card Technologies, Software Integration, Medical Electronics, Digital Imaging, Biometrics and the Internet has placed him at the forefront of business solutions.
Greg is actively involved in the development, introduction and application of technology into Australia and overseas countries. His professional mission is to bridge the gap between leading edge technology and innovative business ideas.
Kosmo Capital was created as a global multi-blockchain network to tokenise physical assets, create smart contracts and establish the basis for fast transactional settlements.
Links
Linkedin - Greg Fendis
technologically advanced network
KOSMO CAPITAL aggregates resources into one global network
Private Partner Network
Permissioned & Restricted
Restricted partnerships invited by KOSMO CAPITAL. Only Certified Digital Partners (CDP) who receive specialised training are provided with access tools to create smart contracts and tokenisation rights.
Hybrid Blockchain Core
Powerful Performance
The KOSMO CAPITAL Hybrid Blockchain technology increases the speed of transaction confirmation, maintains low operating costs and provides multiple layers of data security.
Digital Bridge Converter
Bidirectional Liquidity
Physical assets are converted into Digital Tokenised Domain. All Certified Digital Partners (CDP) are trained on operational procedures and administrative process to access the Partner Admin Portal.
Efficient Tokenisation Process
Digital Domain Assets
Certified Digital Partners (CDP) create the digital tokens, of the physical assets, via the Digital Bridge Converter (DBC). Each physical asset is assessed and verified prior to tokenisation.
Active Participative Marketplaces
Global Payment Process
Global Electronic Payment Processors (EPP) are already interconnected to the KOSMO CAPITAL network. Transactions across international borders are fast, secure and exceptionally low cost.
Multi-Partner Participation
kosmoCOIN Providers
Predefined smart contracts are activated for the assigned asset attributes. Global Certified Digital Partners may become KOSMO CAPITAL network node host as well as service providers.
feature rich platform
KOSMO CAPITAL is a global ecosystem for digital tokenised assets.
hybrid blockchain
Decentralised Public/Private
multi-blockchain network
kosmoWALLET
A secure digital component
to store kosmoCOINS
kosmoCARD
A physical card to interface
between fiat and cryptocurrency
kosmoGUARD
A highly secure interface
for unified transactions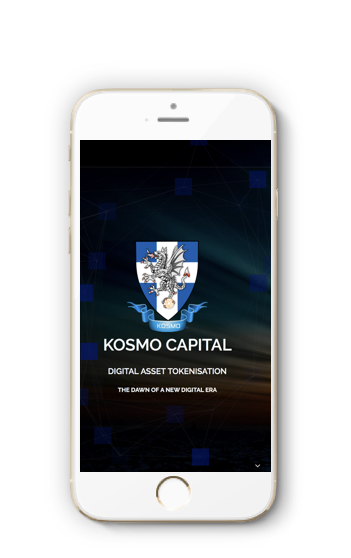 tokenised digital network
A Digital Bridge Converter (DBC)
to process Physical Domain Assets (PDA)
SMART API
A native interface and connectivity to
other 3rd party digital exchanges
platform partners
Certified Digital Partners (CDP)
may host network nodes
channel partners
Certified Digital Partners (CDP)
create smart contracts